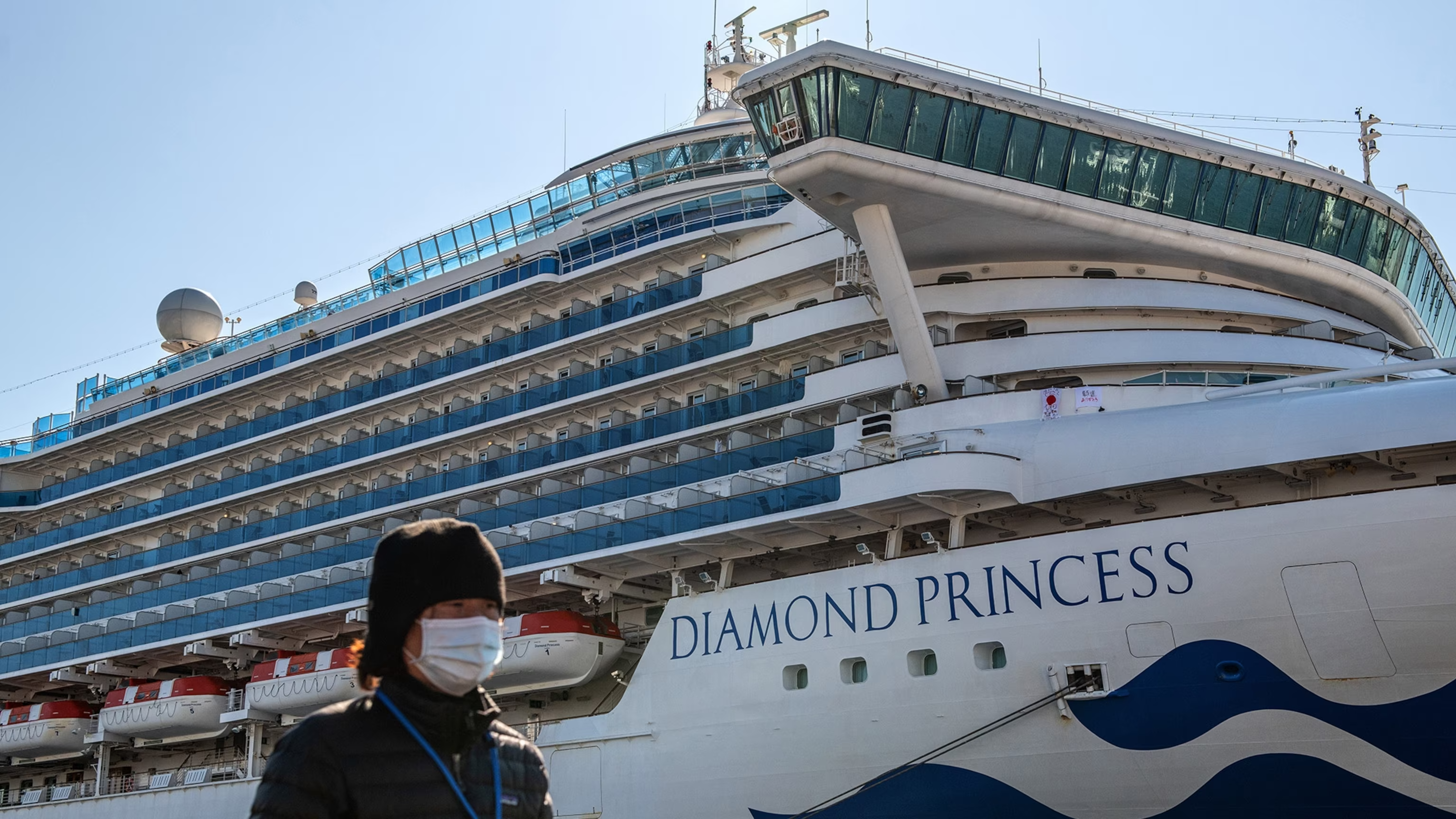 How to Avoid Viruses on Cruise Ships
James Lind was a Scotsman who is credited with conducting the world's first controlled experiment to beat back the deadly effects of scurvy which was killing more people in the late 1700's and early 1800's. It was one of the first examples of curing illness and viruses on cruise ships/sea travel.
There are a lot of things that occur when throwing a bunch of people on ships together for extended periods. Scurvy was the most virulent and deadly disease of its time though it was hardly the only one.
Lind's treatment with citrus brought people back so fast that they were able to help treat other sailors who suffered from the debilitating disease. Thanks to Lind we have taken care of Scurvy on our vessels and long voyages.
In the 2000's we still suffered from outbreaks of viruses on cruise ships. COVID 19 flipped the cruise industry on its head. This is because huddling humans together in large groups for extended periods of time is always challenging.
TABLE OF CONTENTS
01

What Viruses on Cruise Ships Have We Seen?

02

A Novel Way to Dispose of CBRN Agents

03

What Can We Learn from the East Palestine, Ohio Train Explosion

04

Steps Cruise Ships are Taking to Prevent Viral Outbreaks

05

What are a Cruise Ships Medical Capabilities?

06

CDC Recommendations for Safe Cruising

07

Packing Items for Cruise Ships Safety

08

Conclusion

09

Frequently Asked Questions
What Viruses on Cruise Ships Have We Seen?
I was surprised to find the variety of outbreaks that occur on cruise ships. When you hear about viruses on cruise ships/sea travel things like norovirus often come to mind. You think about foodborne illness and the typical symptoms that are affiliated with that kind of sickness.
Instances of respiratory outbreaks are also prevalent on cruise ships. You can even run into vaccine-preventable diseases on cruise ships like chickenpox. Let's look at each of these types of outbreaks and we will even give some examples of recent outbreaks.
COVID 19
The entire cruise ship industry almost collapsed during COVID. It really is an amazing story that they bounced back in 2021 with stats not seen since 2006! Still, COVID will forever have to be managed on cruise ships going forward.
GI Illness
The most common of these is norovirus. GI or gastrointestinal illness is a brutal thing to deal with. It can turn your cruise into a nightmare of vomiting and diarrhea. These viruses are also incredibly contagious, so they spread rapidly.
Respiratory Illness
There are very contagious respiratory illnesses out there other than COVID-19 and these can be brought onto cruise ships, too. Some of these spread through droplets in the air and this kind of outbreak can happen quickly.
Vaccine-Preventable
Cruise ships often stop on islands and in countries where the people are not vaccinated for diseases that America has long eradicated. There is also a chance that some of those people work on the ship, too.
We have seen things like chickenpox and measles show up on cruise ships.
Vector Borne Illnesses
These illnesses are born from insects like mosquitoes. This, again, comes from the fact that cruise ships visit places where diseases like Malaria and Zika are endemic. These diseases can easily be brought on board a cruise ship by passengers or even workers.
Celebrity Cruises Covid 19 Outbreak.
COVID-19 has become a big player on cruise ships. The close proximity and lots of human interaction are perfect for spreading the highly communicable disease. This is a new struggle for the cruise ship industry to deal with.
In a statement on Thursday, Celebrity Cruise Lines revealed that two guests sharing a room onboard its seven-day Celebrity Millennium cruise from St. Maarten that set sail on Saturday, June 5, had tested positive for COVID-19.
The two passengers are asymptomatic, but are isolated in their room and are being monitored by a medical team. The cruise line said that it is "conducting contact tracing, expediting testing for all close contacts and closely monitoring the situation."
Celebrity Millennium Cruise Had COVID Outbreak Despite Passenger Vaccination Requirement (newsweek.com)
P&O Cruises, Arcadia Norovirus Outbreak
Norovirus is one of the most common outbreaks on cruise ships. Norovirus symptoms are gastrointestinal, usually vomiting and diarrhea. Fever with aches and pains can be a symptom, too.
The Centers for Disease Control and Prevention's Vessel Sanitation Program reported on a norovirus outbreak on a recent P&O Cruises, Arcadia, voyage in a January 6 announcement.
(Image courtesy of The voyage dates were December 29, 2022–January 3, 2023.)
According to officials, 84 of the 1,986 passengers (4.23%) and 10 of the 818 crew (1.22%) were affected with the predominant symptoms of vomiting and diarrhea.
Arcadia Jan. 3 – Apr. 13, 2023 | Vessel Sanitation Program | CDC
Scientology Cruise Ship Measles Outbreak
This might sound like the punchline to a joke but this is a true story. It speaks to the issue of spreading vaccine-preventable diseases on cruise ships.
Cruise ships often dock in places where vaccinations are not as common. Cruise ships can also be staffed with people who come from places where vaccinations are not commonplace either.
Rather than continue on its journey, a cruise ship has remained docked in the Caribbean port of St. Lucia with its nearly 300 passengers and crew quarantined since Monday morning. What's up with the dock? A female crew member on the boat turned up with, guess what, the measles.
Why Is A Scientology Cruise Ship Quarantined? It Is The Measles (forbes.com)
Why Are Outbreaks Common on Cruise Ships?
Modern outbreaks on cruise ships are less about malnutrition and more about spreading bacteria and viruses in close quarters. This happens in a number of different ways. While it can be a real headache for the people enjoying the cruise. Just imagine the demand on the cruise liner to keep the customer happy and healthy with so much out of their hands.
Personal Hygiene
(Image courtesy of Houston Methodist)
Personal hygiene is always going to play a big role in the spread of these germs, too. Washing hands regularly and avoiding spreading your germs through things like touching your face, mouth, and nose are great practices.
Compromised Immunity
(Image courtesy of GoodRX Health)
People are dancing, partying, drinking, and staying up late on cruise ships. Many of these activities are going to compromise your immune system. When your immunity is taking a hit it is easier for you to get sick and it's also easier for you to spread viruses on cruise ships.
Bringing Illness on Board
(Image courtesy of Daily Express)
Some people hop on cruise ships when they are not feeling 100% or they could have contracted something that is not showing symptoms yet. Once aboard, they travel the cruise ship leaving germs everywhere they go.
Food Production
One of the greatest risks on cruise ships and sea travel is food production. Food production on cruise ships is often the epicenter of an outbreak. This comes from poor personal hygiene during food production. It can also come from time-temperature abuse.
(Image courtesy of Cruise.co.uk)
Time-temperature abuse is when food is left out at dangerous temperatures for long periods of time. Cruise ships often host buffets for their customers. These buffets are often expansive and full of options. If they are not managed properly then dangerous foods can be left out too long and the growth of bacteria and viruses can happen rapidly.
As you can see, there are many risks that need to be mitigated when it comes to stopping the spread of viruses on cruise ships. If even one of these situations fails then the chance of a dangerous outbreak increases exponentially.
What If You Get Sick on a Cruise Ship?
If you do happen to get sick on a cruise ship then there are some things you can do to help yourself and the rest of the people on the cruise ship. Your number one priority should be to act fast so you can avoid spreading the illness.
(Image courtesy of Cruise Lady)
Report
The most important thing you can do for the safety of your cruise and everyone on that ship is to quickly report your illness to the staff of the ship. That should be done through a phone call.
The quicker you alert the staff to your illness the better chance they will have to stop the spread of the virus. This could be by alerting passengers, checking foods and processes in the kitchen, or working on cleanup.
This will also help them decide if they need to head back to land. If multiple passengers start to get sick it would be better if they were already headed in that direction.
Quarantine
Another important and helpful thing that you can do when you are sick on a cruise ship is to stay in your room. If you leave your room, you radically increase the chance of spreading a virus on a cruise ship.
Later in this article we will discuss the items you need to bring with you to keep from getting sick and the items you need to bring in case you do get sick on the cruise ship. These are the items you will lean on if you find yourself ill in your cabin or in some kind of quarantine.
Steps Cruise Ships are Taking to Prevent Viral Outbreaks
Cruise lines take the spread of viruses very seriously and have implemented strict protocols to ensure the safety of their passengers and crew. The industry has taken a beating over the last decade with bad PR about these types of outbreaks.
(Image courtesy of South Florida Business Journal)
Some of the industry-wide protocols for preventing the spread of viruses include:
Screening passengers and crew members for symptoms before boarding

Enhanced sanitation measures, including increased frequency of cleaning and disinfecting high-touch surfaces

Limiting the number of passengers on board to ensure physical distancing can be maintained

Encouraging hand hygiene and providing hand sanitizing stations throughout the ship

Improved air filtration and ventilation systems
In addition to these industry-wide protocols, individual cruise lines have implemented their own measures to prevent viral outbreaks.
Royal Caribbean has implemented a new ventilation system called MERV 13 that filters out 90% of airborne particles, including viruses. They have also developed a contact tracing program using wearable technology and have increased the frequency of cleaning and disinfecting.
Norwegian Cruise Line has implemented a comprehensive health and safety program called Sail Safe, which includes enhanced sanitation measures, pre-cruise health screening, and onboard medical facilities with dedicated COVID-19 testing and quarantine accommodations.
Carnival Cruise Line has implemented its own enhanced sanitation measures, including increased cleaning and disinfecting of high-touch surfaces and air filtration and ventilation systems. They have also developed a contact tracing program using wearable technology and are requiring all passengers to be fully vaccinated. The Carnival Cruise experienced a COVID outbreak and sought to mitigate exposure going forward.
(Image courtesy of Cruise Industry News)
Cruise lines are taking a proactive approach to prevent viral outbreaks and are continuously adapting their protocols as new information becomes available. Passengers can feel confident that their health and safety are a top priority for cruise lines and can enjoy their vacation with peace of mind.
What are a Cruise Ships Medical Capabilities?
If you do get sick on a cruise ship there will be medical staff on board. You should understand what kind of medical capabilities these cruise ships have. They are not hospitals on the water but they have some capabilities.
(Image courtesy of The Points Guy)
There is no governing body that regulates medical capabilities on cruise ships. It varies by ship, but most have, at least, the capabilities of an ambulance. Some have much more. So, if you find yourself in a situation where you are ill with a virus or bacterial infection make sure that you take advantage of the provided medical care.
Though there are no official rules the American College of Emergency Physicians has created some guidelines that are widely followed. These are basic requirements that a cruise ship should be able to meet in a medical emergency.
Be able to provide emergency medical care for passengers and crew members

Be able to stabilize a patient and provide them with reasonable diagnostic and therapeutic interventions.

Facilitate the evacuation of patients that are severely injured or suffering from a serious illness.
Since 2020 we have all come to recognize that medical facilities have serious limitations. They can only take us so far. When it comes to dealing with massive outbreaks of viruses on cruise ships the situation is not much different.
At a certain point, the only thing that can be done is to head back to the mainland to get more resources so that more people can be treated effectively.
CDC Recommendations for Safe Cruising
The CDC has an extensive amount of information regarding viruses on cruise ships/sea travel. There are several recommendations for safe cruising on the high seas. They have also logged all the outbreaks on these ships and come up with the best mitigation strategies.
1.If you're sick, report your illness.
Before your voyage:
Ask your cruise line if there are alternative cruising options.

Consult a doctor to find out whether it is safe for you to sail.
During your voyage, call the ship's medical facility and follow the medical staff's recommendations.
2.Wash your hands often!
Why: Avoid exposing yourself and others to anything that may cause illnesses and spread germs.
When: Wash your hands often but especially after using the toilet and before eating or smoking.
3.Take care of yourself.
Get plenty of rest and drink plenty of water.
Why: Resting helps rebuild your immune system. Drinking water helps prevent dehydration.
4.Leave the area if you see someone get sick (vomiting or diarrhea).
5.Report it to cruise staff if they are not already aware.
Packing Items for Cruise Ships Safety
Preparing for a cruise can be exciting, but it's important to keep health and safety in mind, especially concerning a viral outbreak. As you have learned there is potential for dangerous outbreaks and you want to be prepared to stay healthy during your cruise and also have items to pack if you do get sick.
To stay healthy during your cruise, it's important to pack the right items to help prevent the spread of germs and to be prepared in case you get sick.
(Image courtesy of Cruise Hive)
5 Items to Pack to Stay Healthy:
Hand sanitizer - Pack a travel-sized hand sanitizer to use throughout the day. It's important to sanitize your hands frequently to prevent the spread of germs. Cruise ships have hand sanitizer but it's important for you to have your own supply, too.

Disinfectant wipes - Bring disinfectant wipes to clean and disinfect high-traffic surfaces in your cabin, such as door handles, light switches, and remote controls. You could also use these when you arrive at dinner or when using bathrooms and other amenities.

Face masks - Pack a few reusable face masks that cover both your nose and mouth. Some cruise lines may require passengers to wear face masks in certain areas of the ship.
In the event of an outbreak you might even consider a half face respirator like our TAPR. Combine this with our ParticleMax P3 Filter for optimal protection against viruses in the air. This filter is rated to shield the user from 99.9995%+ of viral and bio particulates using highly advanced ULPA technology.
Medications - Bring any necessary medications with you, such as pain relievers, allergy medication, and motion sickness medication.

Vitamins and supplements - Boost your immune system by packing vitamins and supplements, such as Vitamin C or Zinc. Supplements like airborne or Emergen C can go a long way.
5 Items to Pack if You Get Sick:
Thermometer - If you develop a fever, a thermometer can help you monitor your temperature.

Cold and flu medication - Pack cold and flu medication to help relieve symptoms if you get sick.

Cough drops - Cough drops can help soothe a sore throat and reduce coughing.

Electrolyte tablets - If you experience vomiting or diarrhea, electrolyte tablets can help replenish fluids and nutrients.

Medical face mask - If you get sick, it's important to wear a medical face mask to prevent the spread of germs.
By packing these essential items, you can help prevent the spread of germs and be prepared in case you get sick during your cruise. Remember to practice good hygiene, such as frequent hand washing and covering your mouth when coughing or sneezing, to stay healthy during your cruise.
Conclusion
The most important takeaway here is that cruise ships are safe and they have added processes and procedures to make your cruise an enjoyable time. It is also important to understand that traveling with lots of people in a confined space can create chaos.
The struggle for cruise liners is to ensure that all passengers are healthy when entering the ship, they maintain good personal hygiene, and of course that all staff is following procedures.
It is also your responsibility to go the extra mile for your own health and safety. If you can avoid high-contact areas and wash your hands regularly, you will cut down the possibility of sickness tremendously.
In the event of an outbreak, it is very important that you are prepared to hunker down and avoid the illness at all costs. If that means using a half-face respirator to keep yourself safe then that is a step you should take. Your travel kit should have all the things you need to stay safe.
FREQUENTLY ASKED QUESTIONS
Is it Safe to Vacation on Cruise Ships?
Should I Clean my Cabin When I Arrive?
Will I Get a Refund if my Cruise is Cut Short Due to Outbreak?