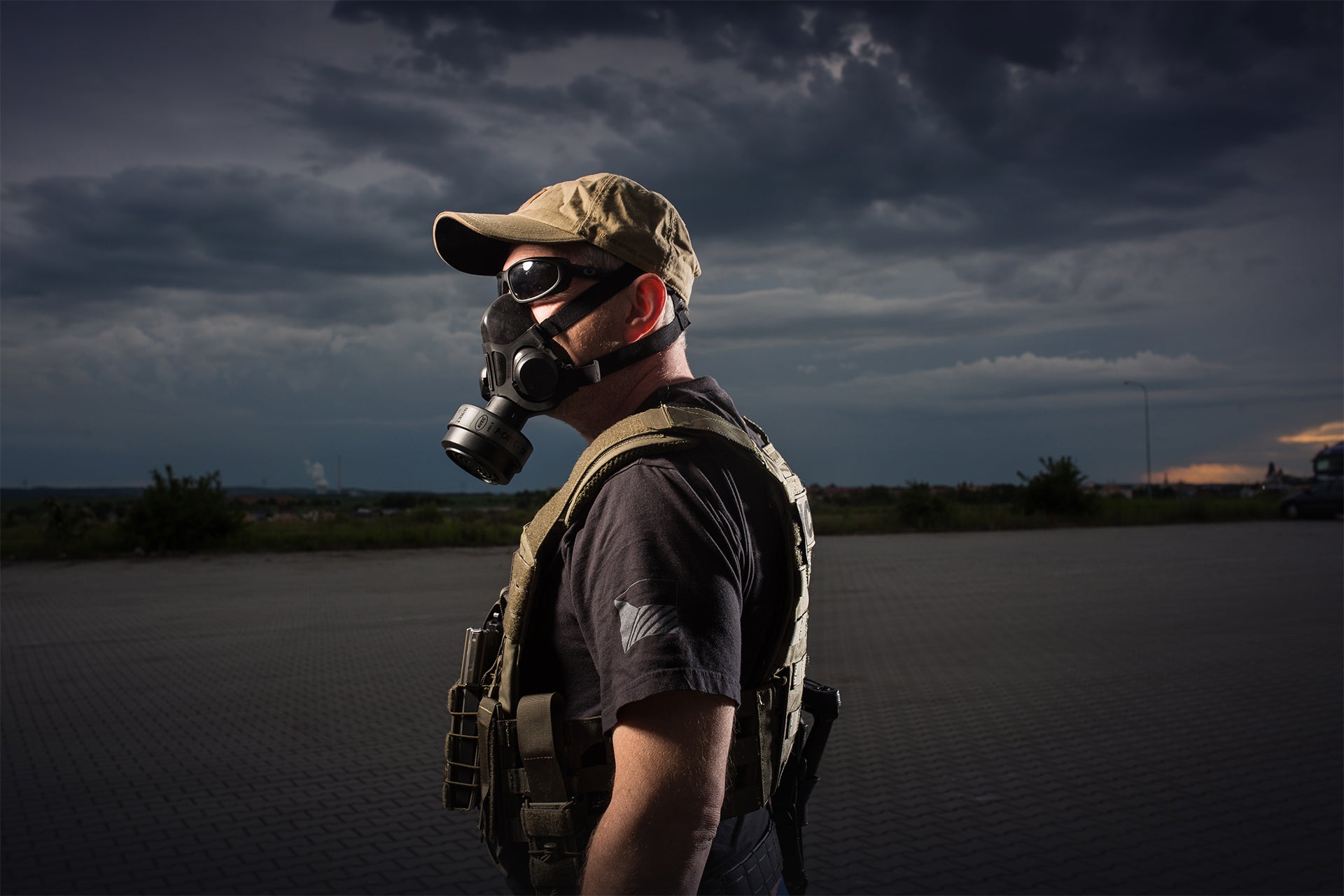 Half-Face Respirator Guide
There are jobs, both professional and personal, that require more protection than a simple N95 mask. Some emergencies and disasters also require a greater level of protection. Additionally, not every hazardous vapor or particulate requires a full-face respirator.
Sometimes, a half-face respirator might be just what you need to get the job done. A half-face respirator can filter all kinds of hazards and provide you with clean air so that you can keep working.
In this article, we cover exactly what a half-face respirator is, how to choose the right one, and even take a look at how to inspect and clean it. We want you to be safe when you use your respirator, whether you use it every day or are donning it for a weekend project.
For a comprehensive breakdown on what full-face respirator to purchase, check out our Definitive Gas Mask Buyer's Guide.
TABLE OF CONTENTS
01

What is a half-face respirator?

02

When to Choose a Half-Face Respirator

03

Selecting a Respirator

04

Capabilities and Limitations

05

Inspection

06

Storage and Cleaning

07

Conclusion

08

FAQs
What is a half-face respirator?
Unlike our popular full-face respirators, like the CM-6M, a half-face respirator is designed to protect the nose and mouth without covering the entire face. These respirators are designed for a variety of uses both occupational and at home.
Half-face respirators are designed to protect your respiratory system from particulates, but they don't protect your eyes, ears, or the uncovered portion of your face. Depending on what you plan to use your respirator for, that might sound like a deal breaker.
However, there are a lot of benefits to owning and using a half-face respirator
Seal
Half-face respirators have a great seal. Since the rubber seals to less of your face, it can create a more comfortable and tighter seal. The seal of a full-face respirator covers much more of your face.
If you can use a half-face respirator for the job, you can take advantage of this comfortable and effective seal.
Fit
Since a half-face respirator only covers your nose and mouth, the fit can be modified and customized to be snug. The MIRA TAPR (Tactical Air-Purifying Respirator) has a low-profile mesh harness that cups the back of your head and allows for a comfortable fit.
Most half-face respirators feature an easily adjustable and customizable fit.
Filter Protection
MIRA's TAPR system, which is our half-face respirator that was originally designed for the Czech special forces, uses the same filters as all of our other masks. You can use the P-CAN for tear gas protection, the ParticleMax for virus protection, or the NBC-77 for protection against nuclear, biological, and chemical threats.
When to Choose a Half-Face Respirator
A half-face respirator is ideal for those in professions where dealing with irritants is part of the job. In some cases, people wear half-face respirators because the irritants don't affect the eyes or skin but do cause respiratory problems.
A half-face respirator can be used to filter harmful dust or harmful chemical gasses. It all comes down to the type of filter you deploy.
Concerned about dangerous airborne particles? Reach for your half-face respirator. But, if those airborne particulates might harm your eyes or skin, you need a full-face respirator and protective suit.
A quality half-face respirator with the right filters will protect your respiratory system from airborne dust, gasses, vapors, sprays, or mists.
Selecting a Respirator
When selecting a respirator, there are some important criteria to consider, and we list them below. Currently, there are three types of half-face respirator from some of the very best manufacturers on the market.
Read on to see which might be the best one for you.
Profile
You don your respirator to get some kind of work done. If this work is in close quarters with dangerous airborne contaminants, an effective low-profile respirator is your best bet.
Bumping a bulky respirator on something and breaking the seal could put your life at risk! You want a low-profile mask that stays out of your way while you work.
Weight
If you expect to be wearing a respirator for hours at a time, lighter is better. Remember, you wear a respirator to get a job done, so you want to be able to go the distance. A lightweight respirator lets you finish the work day without taking an excessive number of breaks to remove the respirator.
Durability
A respirator is an investment, and the best investment is a durable respirator. As long as you clean and store your respirator properly, it should last for years to come.
Materials
One of the best ways to tell if a respirator will be effective is looking at its specifications and the materials it's made from. You want high-quality silicone rubber in the seal. You also want high-quality or medical-grade plastics.
MIRA TAPR System
While many half-face respirators are designed for manufacturing and trade applications, the TAPR was designed for military and LEO applications. If you need a respirator for this type of a mission, the TAPR is the best on this list. It's designed to integrate with popular tactical helmets so it can fit seamlessly into your loadout.
The TAPR is built from high-quality silicone rubber that makes it easy to clean and comfortable to wear. It's also compatible with a wide variety of shields, goggles, and face masks. Its low-profile design can support a single canister at the center of the mask, which is a great configuration if you're shouldering a rifle.
The MIRA integrated microphone can be added to the TAPR so that comms can be managed easily.
Everything comes in a protective carrying case, and if taken care of, the whole TAPR system has a shelf life of around 20 years!
3M Safety 142-6100 6000 Series
This affordable half-face respirator comes in small, medium, and large. The facepiece is made from a lightweight thermoplastic elastomer. This mask is comfortable, and it's an affordable option that can be disassembled, inspected, cleaned, and reused.
The head strap is designed to cradle your head, which spreads the pressure out and allows you to wear this respirator longer with minimal discomfort. This respirator is compatible with other 3M filters, and the bayonet connection is compatible with a broad range of filters.
This respirator is designed for dual filters, which helps mitigate breathing resistance. Rather than pulling all your air through a single valve and filter, you get double that airflow. This is an essential feature that, like the head strap, really matters if you'll be wearing the respirator for a while.
This mask is also adaptable to a supplied air line in situations where you need clean air pumped directly into the mask. For example, in a situation where oxygen is limited.
North Safety 770030m
Made from 100% medical-grade silicone, this simple half-face respirator has a wide perimeter seal that creates a tight but comfortable seal. If a respirator is part of your daily PPE, you understand the difference between a tight seal and a comfortable seal. Both can keep you safe, but only one keeps you working effectively.
Woven straps and a head-cradling strap design also help make this respirator comfortable. The straps go around the back of your head for a balanced seal, including some that connect at the lower portion of the gas mask.
With dual filter capability, this mask will keep you breathing easy throughout the workday. This mask is compatible with both North Safety and Honeywell filters. Fifteen types of filters are available for gas, vapors, and particulates.
The low-profile and minimalist face piece makes it easy to add eyewear for even greater protection. The face piece does not obstruct your vision, which is very important when you're working.
Capabilities and Limitations
On a half-face respirator, the built-in valve and attached filter allow you to exhale carbon dioxide and then inhale clean, filtered oxygen to keep you alive.
As a half-face respirator only covers your nose and mouth, it's an excellent choice as long as whatever substance you're exposed to only affects your lungs.
You can change the filters to filter out a variety of contaminants. The TAPR by MIRA is compatible with all the great filters we offer.
For contaminants that also affect the eyes, you can use your respirator with a pair of protective goggles. However, if the contaminant is also a skin irritant or can be absorbed by the skin, you're going to need a full-face respirator.
Inspection
Let's talk about the basics of respirator inspection. Before each use, your respirator should be inspected, and it should be cleaned after each use.
First, inspect the facepiece for any signs of tearing or cracking.

Next, inspect the inhalation and exhalation valves. Inspect the seals, gaskets, valves, and straps for any tearing, dirt, or signs of wear.

Finally, put the respirator on to ensure everything fits properly and comfortably.
If your half-face respirator passes muster on all of these inspection points, it's ready to be safely donned when the time comes.
Storage and Cleaning
Your half-face respirator is best stored in a protective case. This ensures the mask isn't crushed or stressed by things being placed on top of it. It also makes the mask much easier to find.
Your storage location should be a climate controlled environment with relatively low humidity. This can be a laundry room, backroom, closet, or cabinet inside the home. Avoid crawlspaces, attics, and sheds, as the temperature fluctuations are too extreme.
Also avoid storing your respirator near volatile chemicals that could affect the rubber seal over time. Proper storage will not only keep you safe but also increase your respirator's shelf life.
Cleaning Your Half-Face Respirator
Consistently inspecting and cleaning your respirator can be difficult, but it's critically important. Things like vapors and particulates are largely invisible. However, they can be mildly irritating to deadly. So, it's very important to be consistent and remain vigilant with the cleaning and inspection of your respirator.
The first thing you should do is carefully and thoroughly read the manufacturer's instructions. Beyond that, taking some simple steps can ensure that your respirator is clean and ready to keep you safe.
OSHA provides some of the most rigorous and best cleaning procedures, which are mandatory for occupational safety. The following is Appendix B-2 of 29 CFR 1910.134 which documents OSHA's cleaning procedures:
"Appendix B-2 of § 1910.134: Respirator Cleaning Procedures (Mandatory) Procedures for Cleaning Respirators
A. Remove filters, cartridges, or canisters. Disassemble facepieces by removing speaking diaphragms, demand and pressure-demand valve assemblies, hoses, or any components recommended by the manufacturer. Discard or repair any defective parts.
B. Wash components in warm (43 °C [110 °F] maximum) water with a mild detergent or with a cleaner recommended by the manufacturer. A stiff bristle (not wire) brush may be used to facilitate the removal of dirt.
C. Rinse components thoroughly in clean, warm (43 °C [110 °F] maximum), preferably running water. Drain.
D. When the cleaner used does not contain a disinfecting agent, respirator components should be immersed for two minutes in one of the following:
1. Hypochlorite solution (50 ppm of chlorine) made by adding approximately one milliliter of laundry bleach to one liter of water at 43 °C (110 °F); or,
2. Aqueous solution of iodine (50 ppm iodine) made by adding approximately 0.8 milliliters of tincture of iodine (6-8 grams ammonium and/or potassium iodide/100 cc of 45% alcohol) to one liter of water at 43 °C (110 °F); or,
3. Other commercially available cleansers of equivalent disinfectant quality when used as directed, if their use is recommended or approved by the respirator manufacturer.
E. Rinse components thoroughly in clean, warm (43 °C [110 °F] maximum), preferably running water. Drain. The importance of thorough rinsing cannot be overemphasized. Detergents or disinfectants that dry on facepieces may result in dermatitis. In addition, some disinfectants may cause deterioration of rubber or corrosion of metal parts if not completely removed.
F. Components should be hand-dried with a clean lint-free cloth or air-dried.
G. Reassemble facepiece, replacing filters, cartridges, and canisters where necessary.
H. Test the respirator to ensure that all components work properly."
Conclusion
If you're donning a half-face respirator, then you should know that it's for a good reason. These respirators are designed to keep your lungs and respiratory system safe. Even doing things like woodworking can be made safer by using a respirator.
Take the time to be sure your half-face respirator is set up properly. Then test the fit to make sure you're getting a complete seal. This inspection could save your life, so take it seriously.
Choose a quality respirator that fits your budget and is lightweight and easy to use. This will ensure that you keep it on to keep yourself safe.
FAQs
How do I know what size half-face respirator I need?
How long can I wear my half-face respirator?
Do I need training to wear a respirator?