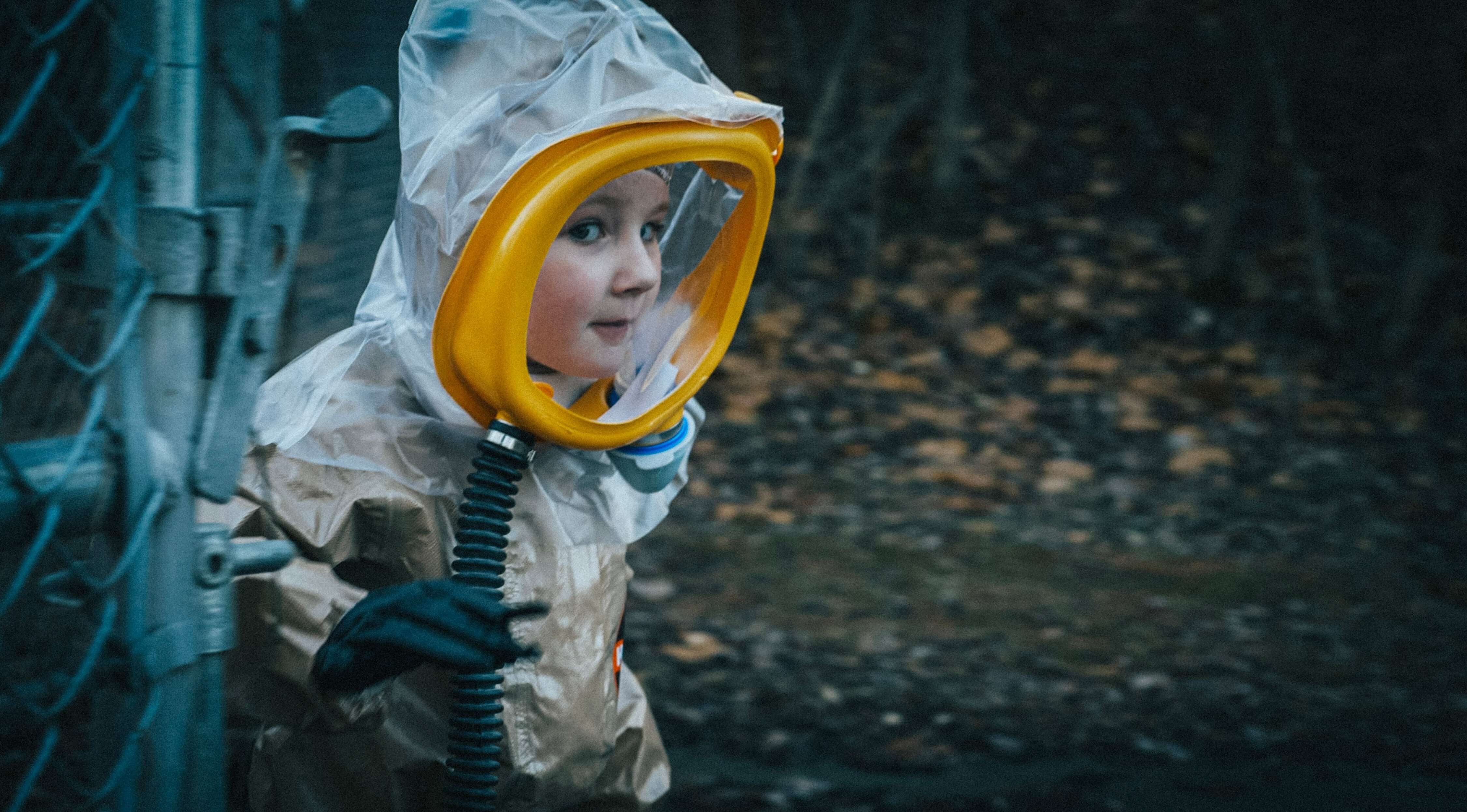 The Best Gas Mask for Kids Guide (2022 Edition)
The decision to acquire gas masks for kids can be a sensitive subject.
While no one wants to think about their children needing chemical, biological, radiological, or nuclear (CBRN) protection, you also cannot afford to have that kind of blind spot in your PPE arsenal.
Children are more vulnerable to inhaled threats than adults are, even and especially at lower concentrations. Our lungs don't fully mature until we're 20–25 years old, and exposure to certain hazards in our younger years can lead to health problems that last a lifetime.
At the same time, most modern gas masks were designed for use by the military, police, or government agencies, meaning that they're only available in adult sizes. And as you're about to see, even the basic functionality of a modern CBRN respirator isn't exactly kid-friendly.
(Image source: T Rex Arms)
If you're seeking a general overview on gas masks as a whole, you'll want to refer to our comprehensive Gas Mask Buyer's Guide. But for today, we're taking a deeper look at what it takes to protect your children from a wide range of threats, from chemical weapons and industrial accidents to potential nuclear fallout.
We'll start with how modern gas masks work, then look at how to make them work for your kids, and finally, we'll review the best gas masks on the market to determine which one is right for your child.
Let's get started.
TABLE OF CONTENTS
01

America's PPE Blind Spot

02

Why Traditional Gas Masks for Kids Don't Always Work

03

The Balloon Test

04

The Negative Pressure Test

05

The Best Gas Masks for Kids on the Market Today

06

So, Which Size Gas Mask is Right for My Kids?

07

Kids Gas Masks You Should NEVER Buy

08

Practical Protection and a Powerful Learning Tool

09

FAQ
America's PPE Blind Spot
There are some 75 million Americans that are 18 years old or under.
This generation is the largest in our country's history, bigger than the baby boom. And yet they've got almost no practical protection from chemical, biological, radiological, and nuclear (CBRN) threats.
And it's hard to talk about without sounding alarmist, but the threats are very real.
Consider that 2020 was the worst year on record for west-coast wildfires. Thirty-three people died, and millions more were exposed to harmful smoke.
Or what about the fact that most Americans now live within 50 miles of a nuclear power plant. We've got 93 nuclear power reactors with outstanding safety records, but each and every one of those reactors relies on our sagging infrastructure and power grid to stay running.
(Image source:

Canary Media

)
Of course, the most significant biological threat of the century, COVID-19, goes without mentioning. While some studies show that wearing cloth masks could reduce the potential spread of the virus, only a true particle filter can protect you from the virus 100% of the time.
Numerous other threats go unseen every day. Every day, we ride past them in cars, on bikes, or in school buses without realizing the potential consequences of a "mild" disaster or large-scale industrial accident.
For adults, there's a solution. Gas masks and other forms of PPE are readily available to provide the same level of uncompromising protection as the best military and police gear out there.
But having that same quality of gas masks for kids? There's not much to speak of. Even the basic concept of a standard gas mask isn't necessarily the best solution.
Why Traditional Gas Masks for Kids Don't Always Work
The modern gas mask is as simple as it is effective.
The mask itself is typically constructed from a butyl rubber compound that stretches and forms an airtight seal around the perimeter of your face. Inside the mask, a clear, shatterproof visor allows you to see, and a one-way exhalation valve coupled with an inhalation port allows you to breathe clean air.
The really complicated stuff is in the gas mask filter itself, which is attached to the inhalation port. Filter cartridges typically have standard threading (MIRA Safety uses 40mm NATO), but each cartridge is designed for a specific range of threats depending on the filter media.
When you inhale while wearing a gas mask, you draw air through the filter media, which filters out the contaminants and provides you with clean air. The filter media is densely packed inside a filter cartridge, so each breath requires a little more lung power than usual. This can lead to fatigue over time, but that's not a problem for most adults.
For kids, on the other hand, this entire system needs to be reconsidered.
The Balloon Test
That's right.
If you want to know whether someone has sufficient lung capacity to use a gas mask, hand them a balloon.
If they can fully inflate it on their own, they'll probably be comfortable wearing and using a gas mask for extended periods. It's that simple.
If they can't blow up the balloon, it's not a cause for concern. It just means they'll need a different solution—one that uses battery power instead of lung power. These systems still combine a basic respirator mask with a standard gas mask filter. But, they integrate a crucial third component called a powered air-purifying respirator, or PAPR for short.
PAPRs are powered blowers that are sealed from outside elements. Instead of screwing the filters onto the gas mask itself, you screw them onto the PAPR, then connect the PAPR hose to the gas mask filter port. Once the child has donned the system, you just hit the power switch for a steady supply of clean air.
PAPRs are an absolute necessity for anyone who fails the balloon test. But, they're also a powerful upgrade for practically anyone wearing a full-face respirator. Because drastically reducing breathing resistance also reduces the risk of fatigue during longer or more strenuous periods of use. Also, since PAPRs constantly pump air into the mask, they create positive pressure, providing added protection from airborne threats. This means should there be some kind of light leakage inside of the mask itself, the air flow will egress contaminants out instead of containing it within the system.
We'll look at a few kids' gas masks (including one with an integral PAPR) in just a moment. But first, there's one more test to consider for your kids' safety.
The Negative Pressure Test
This is the most important basic safety check for gas mask users.
You need to do this every time you put on your mask, and it's doubly important for younger family members.
The negative pressure test involves donning your mask, tightening the straps, and then fully covering the inhalation port (if you don't have a filter screwed in) or the inlet on the gas mask filter (if you do have a filter on the mask). Have the wearer take a deep breath in with the port covered to ensure no air can enter.
(Image source: MSA Europe)
The mask should suction to the user's face, and they should feel a small amount of pressure inside it. That means the mask is correctly sealed around their face and can protect them from airborne threats. If the mask retains its shape and the pressure inside doesn't increase, there's an air leak.
This is especially important for kids because, once again, they grow fast. So they'll need a gas mask that fits comfortably and isn't too small, but it simply must pass the negative pressure test. Here at MIRA Safety, we recommend unboxing and testing your mask as soon as you take delivery.
Especially as smaller kids grow, you'll want to take out the gas mask and have them test it at least once a year. Since every kid is different, there's not a universal recommendation. Some kids will be large enough to wear an adult mask before their teens, while others might require smaller masks into adulthood.
Please note, that the negative pressure test only applies to a traditional style gas mask where the seal forms around the face and not for hood-style respirators, as you're about to see later in this article.
As long as you're aware of which mask your kids need for practical protection, you're in good shape.
The Best Gas Masks for Kids on the Market Today
Just 5 years ago, there was practically nothing on the market in terms of CBRN protection for kids.
Now, thanks to a few recent releases imported from abroad, there are some solid options for children of almost every age and size. These solutions are nearly all customized exclusively for children while providing the same uncompromising protection as an adult gas mask.
Let's take a look:
The best choice for younger kids isn't even a gas mask; it's technically a powered, full-face respirator.
Initially designed by the Israeli Defense Force (IDF) to protect Israeli children from potential chemical warfare attacks, the CM-3M is a sophisticated system that integrates a transparent expandable hood and a PAPR with filter to protect kids without needing a tight-fitting mask or negative pressure system.
The hood is made from 4-layer PVC/nylon/nylon/PVC for maximum tear-resistance (tested according to ASTM Standard D882) and tested to provide up to 240 minutes of effective protection from mustard gas (CWA) according to MIL-STD-282 (method 204.1.1.).
Once connected, the blower/bellows system provides 45 liters per minute of airflow, over pressurizing the hood's interior to ensure easy breathing. The PAPR uses four standard CR123A batteries and provides 15–22 hours of continuous use. The kit comes with a back carrier recommended for kids under the age of 4 and a waist/belt mount ideal for kids 4 and up.
With any kind of long term use of PPE, hydration is a vital consideration as the user is exerting more energy over time inside of an enclosed system. As such, the CM-3M features an integrated hydration system with a water bottle. This offers the child the ability to hydrate even when inside of a CBRN environment.
It's stored in a compact, folded package that can easily be stashed away in a bug-out bag or kit. And its design fits snug with a hazmat suit for easy total body protection.
Take just one look at the system, and you can tell it's designed for kids. Bright, playful colors and a "space helmet" design make it feel fun and kid-friendly. That can be an essential factor when it comes to making sure younger kids like the system enough to trust and use it.
Once the powered blower is turned on, breathing inside the respirator hood is effortless. And while the hood may look simple, its construction provides protection comparable to that of an adult's gas mask.
However, the CM-3M still has limitations.
The MD-1 is one of the only truly reliable and reusable children's-sized gas masks on the market today.
It's effectively a scaled-down version of a standard adult gas mask, retaining most of the same great features you get from a full-size MIRA Safety gas mask while keeping the weight down to around 1 lb.
Made in Serbia, the MD-1 features a panoramic polycarbonate visor (>70% field of view) along with an articulating five-point mesh head harness for maximum comfort. You can attach 40mm NATO gas mask filters directly to the front port or use the optional hose to remove the filter's weight from the face by moving it to the child's belt.
The MD-1 is available in two sizes, a medium that's ideal for children 2 to 6 years old and large for kids 6 to 12 (more info on measuring for gas masks below).
Unlike the CM-3M, the MD-1 does not require a PAPR to function. That means less gear to carry and less potential points of failure out in the field. Using the hose can help reduce breathing resistance, but it's otherwise completely human-powered. An optional PAPR can still be used in place of the hose, but it's not necessary.
The MD-1 differs from an adult's gas mask in a few key ways beyond its small size and weight.
First of all, it's made from natural rubber instead of the butyl rubber used for adult gas masks. Natural rubber is less irritating on sensitive skin. The natural rubber has a slightly shorter shelf life of 10 years, but that's plenty of time for most kids to grow out of their MD-1 and into a CM-6M or CM-7M.
The next key difference is color; it's blue instead of black like adult masks. That makes the mask easier to identify and a little more fun for kids. And finally, the MD-1 is not compatible with all MIRA Safety gas mask accessories. So you can't mount a gas mask microphone or a spectacle insert for prescription lenses. You can still use a headset or one-way communication, and your child could wear contact lenses (if they're used to wearing them).
Remember that glasses and eyewear cannot be worn with a gas mask as it would compromise the seal.
Overall, the MD-1 is a flexible and cost-effective choice that provides about the same practical protection as anything else on the list. And with a 10-year shelf life, it's made to last.
Kids grow up fast.
Sometimes, they're big enough for an adult gas mask before you know it, which makes our CM-7M Military Gas Mask the next logical solution for them.
This particular model is available in a small size, making it suitable for older kids, teens, and smaller adults. Typically, we recommend this mask for larger kids 14 and up or smaller adults who weigh less than 130 lbs.
It's made from durable butyl rubber with a dual viewport design that's constructed from silicate glass that preserves over 70% of your field of view (roughly the same as the MD-1).
It weighs a little over 17 ounces and features a six-point mesh head harness for improved comfort. There's a high-quality speech diaphragm for more accessible communication, or you could attach an optional MIRA Safety Gas Mask Microphone to the downward-facing exhalation valve. The CM-7M is also compatible with optional MIRAVISION Spectacle Inserts with corrective lenses.
In terms of overall limitations, the CM-7M has very few. It doesn't come with a PAPR like the CM-3M or a hose like the MD-1, but those are available as optional extras. It's a good mask for older kids to grow into, with outstanding compatibility and upgrade potential. Altogether, the professional grade construction of this mask meets the Czech Republic's military standards of CBRN protection in the field.
On top of all these additional features, the CM-7M has a standard 20-year shelf life. It's an outstanding value for only a slight price premium.
(Image source: Blue Line Syndicate Group and The Iridium Group)
As discussed above, powered air-purifying respirators (PAPRs) can be a flexible and highly useful upgrade for just about anyone wearing a gas mask or full-face respirator.
And the MB-90 is our top choice.
Like the CM-3M, it was designed by the Israeli Defense Forces (IDF), but in this case, the target market was special operators in the military. They wanted a lightweight, low-profile option to power up their PPE without sacrificing an ounce of performance, and the MB-90 PAPR is what they got.
It uses dual 40mm NATO filters for maximum airflow, delivering 90 l/min (twice as much air as the CM-3M's PAPR). It weighs just 1.8 pounds and has a 10-year shelf life, and perhaps best of all—MIRA Safety has modified the design to run on standard AA batteries (also compatible with NiMH and LiSO2 batteries). That means backup power will be easy to find when you need it.
With the MB-90 PAPR and an MD-1 gas mask, you can create a powered breathing system for smaller kids. Then, the same PAPR can be used by an adult, if they need to head out on their own. PAPRs are an essential force multiplier for your PPE kit and a critical consideration for kids.
Like everything else we've looked at, there are a few limitations.
Namely, the fact that the MB-90 uses dual gas mask filters. That doesn't reduce the level of protection each filter provides, but it does mean you'll need two filters for each PAPR use. And it's essential to make sure the filters provide matching levels of protection. Otherwise, you'll end up with the lowest common denominator among them.
There's also the question of mounting the MB-90. But it comes with a belt mount to get the job done, with an optional MOLLE pouch for more flexible mounting on compatible vests, plate carriers and backpacks.
Do keep in mind, should the batteries run out while in the field, the MB-90 PAPR system will simply revert back to a negative pressures system. This means it is still safe to use, it will just function similarly to a traditional gas mask.
At the end of the day, the MB-90 is a powerful PPE upgrade that's well worth the added cost and effort.
So, Which Size Gas Mask is Right for My Kids?
Unfortunately, sizing someone for a gas mask isn't as easy as using a tape measure.
In reality, you'd need an obscure tool called a faciometer or a brand-specific indexing guide to be sure. After all, everyone is different, and different face shapes may require different mask sizes. That's why negative pressure testing is so crucial. There's no such thing as a "one-size-fits-all" gas mask since you need a snug fit and a tight seal for the system to function.
But here are a few simple guidelines when it comes to sizing gas masks for your kids (and yourself):
For almost all kids 2–8 years old: The CM-3M is ideal. It's easy to use, and there's far less concern about fitment or getting a perfect seal. Especially for families with multiple small children, the CM-3M can make a great "hand-me-down" thanks to its impressive shelf-life. However, the medium-sized MD-1 is the right size for kids 2–6 years old, and it's a third of the price. So if your kids pass the balloon test, that might be your most prudent option.
For almost all kids 6-12 years old: The large MD-1 is probably your best option. Most 6–12-year-olds can pass the balloon test, and they should likewise pass a negative pressure test with the large MD-1. It's worth considering an MB-90 PAPR for backup if it's within budget, and you'll also want to stock up on additional filters.
For kids who weigh 100–130lbs: You might want to consider a smaller-sized adult CM-7M mask. The CM-7M comes in three sizes, with similar functionality and price to the MD-1. The CM-7M also has other appealing features, like compatibility with accessories and night vision goggles. It has a substantially longer shelf life than the MD-1 at 20 years. It's a substantial upgrade and a longer-term investment for a small premium in price.
For very large/adult-size kids: Consider either a CM-6M or CM-7M adult gas mask in medium. Those are our two best-selling gas masks, and they're a perfect fit for the vast majority of the adult population. Some slimmer adults or those with narrower faces might not pass a negative pressure test with the CM-6M model, which is where the CM-7M in small comes in.
Kids Gas Masks You Should NEVER Buy
(Image source: Etsy)
Aside from the options mentioned above, there are few (if any) children's respirators on the market you should consider.
Note that some respirator hoods are designed for a single use only. So while they might include a PAPR and offer decent protection, you can't train with them or get your child acclimated without spending a substantial sum of money.
Surplus gas masks are still sold on eBay, but it's often impossible to gauge how old or effective any of that gear is. If a gas mask is too old or stored improperly, the rubber ages and cracks. That means it won't provide a working seal.
Another important type of gas mask to avoid is anything marked or sold with the word "airsoft" on it. Airsoft is a hobby involving realistic-looking weapons and military gear. Online retailers like Amazon will sell masks designed for the hobby but billed as "gas masks" in kids' sizes. These masks are almost all made in China without any kind of safety certification or even filter compatibility.
Aside from the options recommended above, there are very few practical choices when it comes to CBRN protection for kids.
Practical Protection and a Powerful Learning Tool
As you can see, today's kids have more options than ever before when it comes to practical respiratory and facial protection.
What's more, the recommended solutions we discuss here all use the same 40mm NATO gas mask filters. That's easily the most popular standard, with a wide selection of options and compatibility for both children's and adult respirators.
But it's up to parents (which is probably you) to make it happen.
Because whether it's a deadly new variant of COVID-19, an unprecedented industrial accident on the scale of the BP oil spill, or another nuclear disaster like Pennsylvania's Three-Mile Island—the risk of the next disaster will always be there.
And when it's time to evacuate or make your way to safety, you won't be heading out alone.
Your job's not over once you've found the right mask. You'll want your child to familiarize themselves with the mask's look, fit, and feel. Children should practice a little donning and doffing the mask, at a minimum once every 6-12 months to ensure it still fits.

Another essential practice is communication. For children that are able to talk, it is of vital importance that the child verbally state what their condition is at least every hour or so to their parents or guardian. By normalizing this behavior, the health of the child can always be monitored, which allows the parent to make quick fixes to the equipment or render aid in a heartbeat.

If the child cannot speak, the parent must vigilantly monitor their health and the integrity of their PPE. Ensure that the child is at least within your line of sight and within a reasonable distance that they can be swiftly picked up.
Additional training is optional, but it couldn't hurt.
Another critical factor to consider with all gas masks is the limited protection. Gas masks protect your airways and the soft tissue of your mouth, nose, and eyes from potential CBRN threats. The rest of the body is still exposed to airborne threats, some of which can damage the skin on contact.
For full-body coverage, we recommend a hazmat suit like the MIRA Safety HAZ-SUIT, which is available in children's sizes on the website.
So take the time to consider your options and explore what's available. Each gas mask has its own FAQ section at the bottom of its page. You can navigate to the page by clicking on the links for CM-3M, MD-1, MB-90 PAPR, and CM-7M. If you've got any questions that aren't answered, don't hesitate to reach out to our Elite Customer Service Team or drop your question into the comment box below.
FAQ
How does the CM-3M seal? A mask seals to your face but this looks like a hood just draped over the top of the child's shoulders.
Is it the mask itself or the filter that gives the CM-3M CBRN rating?
Can you change the filter on the CM-3M? Which filter is that if so? Also, it is mentioned that the product was tested and shown to provide protection for 240 minutes...is that based on one filter?
Do the MD-1 and CM-3M provide adequate protection against COVID-19?
How long do filters last when in use?