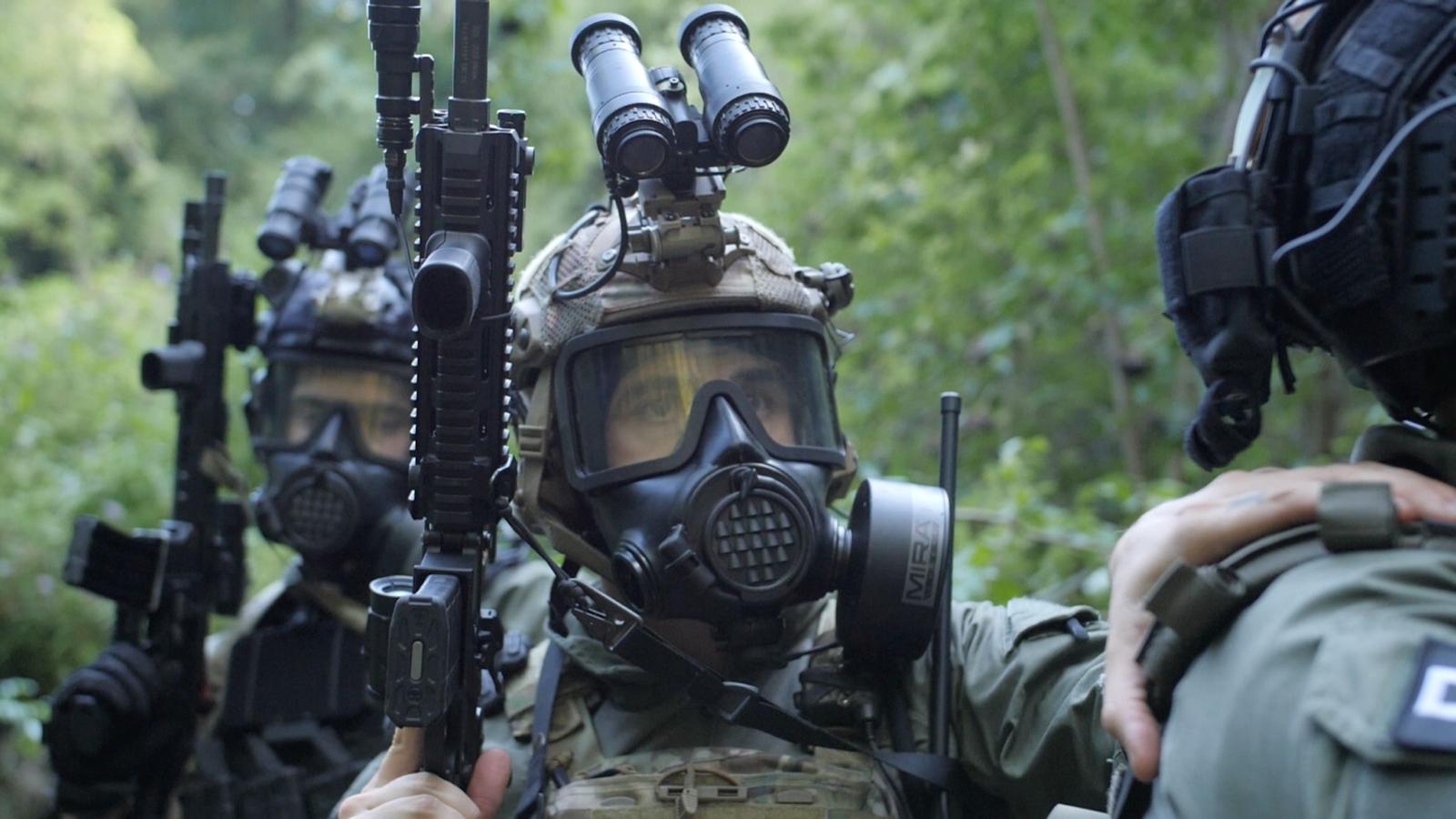 The next generation of practical CBRN protection is finally HERE—with the new CM-8M gas mask.
Providing the best of both words, this revolutionary new mask combines an ultra-wide panoramic field of view with optics-ready rifle compatibility while protecting you from the full range of chemical, biological, radiological and nuclear (CBRN) threats.
It also features a wide range of game-changing upgrades and optional accessories, providing you with the ultimate mission-ready protection every time.
Make no mistake, the CM-8M gas mask is a massive leap forward. One that's been years in the making here at MIRA Safety. But as you'll see today, and as you'll realize the instant you don your own CM-8M gas mask, all that hard work has been worth it.
Because the CM-8M gives every civilian and law enforcement officer access to the ultimate in professional-grade CBRN protection. It provides the user with three key advantages—awareness, flexibility, and durability—that simply can't be ignored.
So today, we will take a deep dive into this game-changing new gas mask to see what your ultimate CM-8M kit will look like…
Table of Contents
01

The Advantage of Maximum Awareness

02

The Advantage of Maximum Flexibility

03

The Advantage of Durability

04

Is the CM-8M Right for Me?

05

Frequently Asked Questions About the CM-8M Gas Mask
The Advantage of Maximum Awareness
Since MIRA Safety was founded, we've proudly provided two of the best civilian gas masks on the market—the CM-6M and the CM-7M.
Both are outstanding masks. And both have their place.
The CM-6M features a massive, ultra-wide panoramic visor. This increases your peripheral vision, aiding in awareness when you need it most (during emergencies). As a result, it's easier to stay calm and make your way to safety or even recognize threats you might have otherwise missed.
The CM-6M offers maximum visibility WITHOUT rifle/optics compatibility…
The CM-6M is also sold in just one size, with a flexible butyl rubber construction. As such, there is no need to carefully size yourself or guess before ordering. Just suit up and perform a negative pressure test on the mask—then you're good to go.
Of course, there are still a few minor downsides to this kind of design…
First of all, the curved contour of the panoramic visor of the CM-6M makes it challenging to shoulder a rifle, use a high-magnification scope, or deploy night vision goggles. You can still use a handgun with relative ease, but self-defense will be limited while using the CM-6M mask.
Since the CM-6M is designed for civilians, this difference is rarely a problem. And if it is an issue, there's always the CM-7M.
The CM-7M is a tactical gas mask available in three different sizes. It features the same lower mask and oronasal cup construction of the CM-6M but with one key difference.
Instead of a visor, the CM-7M features a pair of "goggle" style eyepieces. These smaller flat eyepieces don't provide as wide a field of view, but they are compatible with rifle sights, rifle optics, night vision goggles, and other tactical systems.
So, ultimately, you've always been trading one type of awareness for another.
Would you like a slightly wider field of view or the ability to see through night vision goggles?
If you're a civilian, it's a pretty easy question to answer.
But if you're in law enforcement, or if you'd rather not limit yourself one way or another, then the choice has never been an easy one.
So why make a choice at all?
The MIRA Safety CM-8M is a radical redesign that gives users the best of both worlds. With a "snowboarder-style" visor, the CM-8M offers an even wider field of view than the CM-6M, while retaining the optics- and rifle-compatibility of the CM-7M.
As a result, there's no longer any need to compromise.
The CM-8M provides maximum awareness in any situation. Even if you never plan on shouldering a rifle or suiting up with night vision, you'll still have better peripheral vision with the CM-8M. And at the same time, you'll still be able to use the vast majority of popular rifle optics and other optical gear.
The Advantage of Maximum Flexibility
The next significant advantage of the CM-8M is nothing new for MIRA Safety, which makes it so great.
Because every adult gas mask from MIRA Safety is engineered for compatibility with the same family of practical upgrades and optional accessories. That means the same gear you bought to work with your CM-6M will also work with your CM-7M and now with your CM-8M as well.
All three masks are compatible with NATO standard 40 mm gas mask filters, giving you a world of practical protection. As a result, it's compatible with any existing gas mask filters you have for your MIRA Safety gas masks.
That includes our most popular 40mm NATO filter, the NBC-77 SOF, with its twenty-year shelf life and practical protection from every CBRN threat out there. You can also count on the VK-530 for smoke protection and P3 ParticleMax filters for protection from biological threats.
Since the CM-8M is compatible with 40mm gas mask filters, it's also compatible with our MB-90 Powered Air-Purifying Respirator (PAPR)—arguably the most powerful performance-enhancing upgrade you can buy for your gas mask.
Gas masks filter air by drawing it across densely packed filter media. And they normally use your lung power as the mechanical force to make that happen. So it becomes slightly harder to breathe when you're masked up, which can lead to faster fatigue and even exhaustion over the course of a few hours.
But a PAPR does the breathing for you. Powered by a standardized AA battery pack, the MB-90 automatically draws in air across your gas mask filters, then sends it to your mask through an attached hose. As a result, it's easier to breathe than it would be even without a mask, and you have the added benefit of positive pressure protecting you from inside the gas mask.
Power up your respirator with a PAPR for maximum airflow.
Additionally, a PAPR may be absolutely necessary for some older gas mask users or those with respiratory issues.
Other MIRA Safety upgrades are even easier to use, like our gas mask microphone that snaps on over your CM-8M's exhalation valve and connects directly to most comms platforms. Or the tear-away visor covers you can use to keep your visor clear of mud, muck, or other obstructions while you're in the field.
Like other MIRA Safety masks, the CM-8M also features an integrated hydration system that can be used with compatible Camelbak rigs and a speech diaphragm that can be used for communication or upgraded with a MIRA Safety Voice Projection Unit.
The CM-8M even shares replacement parts with our other MIRA Safety masks, making it easier to stay flexible and kit out for specific missions.
So, the possibilities are practically endless…
You can gear your CM-8M up for maximum mission-ready exertion by equipping it with a PAPR, back-mounted PAPR MOLLE pouch, and Camelbak hydration system. For crowd control, you can gear up with a P-Can filter, and a Voice Projection Unit cranked up to max volume. Or you can prepare for extreme weather exposure with visor tear-aways and a gas mask microphone.
All these features and upgrades allow you to customize your CM-8M in minutes to best serve your mission profile. This is the flexibility you simply can't get from other civilian gas masks (which may require specialized filters or offer limited accessories/upgrades).
The Advantage of Durability
Like all MIRA Safety adult gas masks, the CM-8M is built to meet the highest CE safety standards using ultra-durable butyl rubber.
That means you can trust the CM-8M in even the most extreme situations and around some of the deadliest CBRN threats known to man. It's a rugged and ready gas mask that's equipped for the most challenging survival situations. It's also got a twenty-year shelf life—so you know you can trust the CM-8M for the long haul.
And even though the CM-8M is a new model, it's based on battle-tested designs that have proven themselves in the field for decades.
Of course, it's important to note that MIRA Safety gas masks are not NIOSH-certified. But that's actually one of our most significant advantages.
NIOSH certification can be extremely expensive and difficult to maintain. That's the primary reason why Level 3 NIOSH protection can be prohibitively expensive. MIRA Safety gas masks and PPE, meanwhile, provide roughly the same level of protection (as certified by European CE standards), but without the massive price tag.
In reality, the CM-8M provides the same level of protection as the CM-6M and CM-7M, both of which are trusted by law enforcement and military organizations from around the world—from the US Department of Defense to the South African Ministry of Interior.
Which leaves us with just one very important question…
Is the CM-8M Right for Me?
The simple answer to this question is yes.
Whether you're looking for civilian protection or a duty-ready gas mask, the CM-8M is a perfect full-face respirator for any kind of job. Even if you don't ever plan on shouldering a rifle or suiting up with night vision, it's still good to have the option just in case, and you're still getting better overall visibility and awareness than you would with the CM-6M.
The CM-8M provides all the practical advantages of other MIRA safety gas masks without any of the compromises, all for a comparable and very affordable price.
It's also compatible with all your existing MIRA Safety accessories, upgrades and filters, making it the perfect logistical upgrade for anyone who already has a CM-6M or CM-7M gas mask.
Once again—you're looking at the next generation of practical CBRN protection.
The CM-8M was engineered to do everything our existing masks already do, but better. And it does precisely that. Upgrade to a CM-8M today and see for yourself…
Frequently Asked Questions About the CM-8M Gas Mask
Has the CM-8M been tested? Is it mission-ready?
Can I use my CM-8M with my existing MIRA Safety gear?
Can I wear a CM-8M on the job?
What are the key advantages of the CM-8M tactical gas mask's visor design, especially in terms of compatibility with thermal optics?
Does the CM-8M's compatibility with night vision goggles make it a suitable choice for law enforcement, military personnel, and civilians?
What percentage of the field of view does the CM-8M tactical gas mask provide, and how does it achieve compatibility with night vision goggles, thermal optics, and rifle scopes?