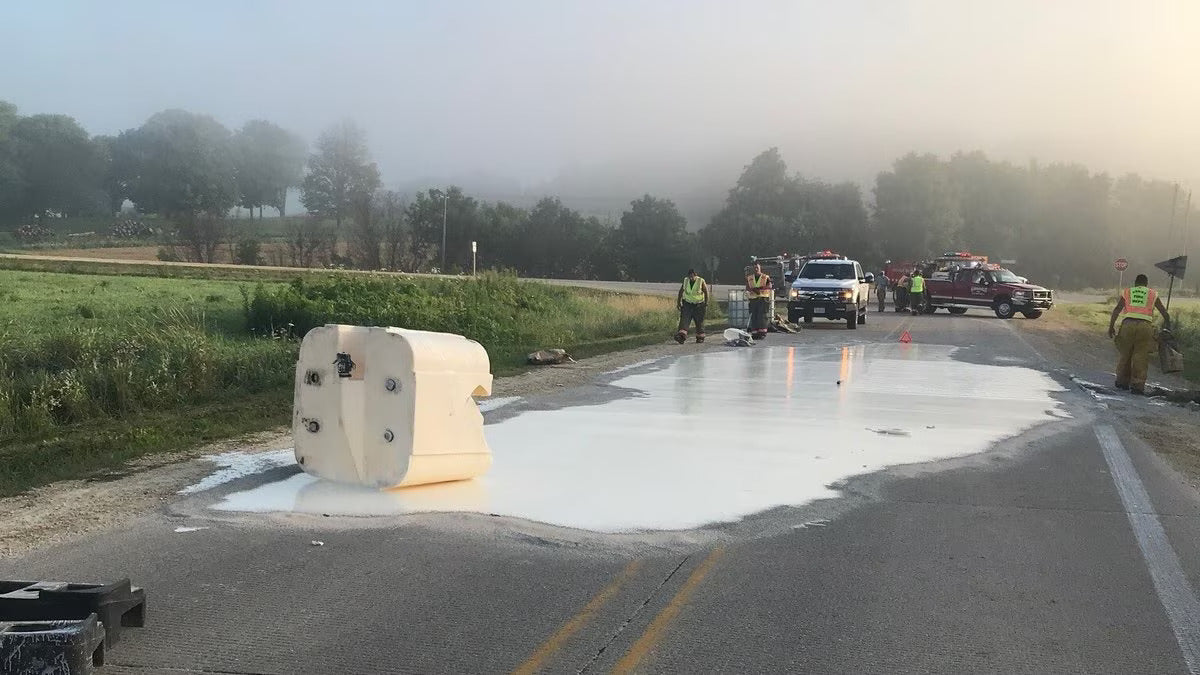 Chemical Spill in Jacksonville: Evacuation Order Lifted After Hydrochloric Acid Incident
Jacksonville, Florida: it's a vacation destination known for its tranquil beaches and lush nature preserves.
Yet in the wee hours of Sunday, the sprawling port city was jolted awake by an unexpected chemical emergency: A rail car, stationed at the historic Florida East Coast Railway, had faced a mishap, resulting in a spill of nearly 30,000 gallons of hydrochloric acid.
As such, the dawn-tinted Jacksonville streets soon grew awash not with morning joggers or early risers, but with emergency responders rushing to the site of the accident.
Unfortunately, it's become an all too familiar scene in the US, as unintentional releases of chemicals have spiked in recent years–from train derailments to power plant leaks, truck collisions, and pipeline spills.
It is within this context that we explore the emerging details of the Jacksonville chemical spill, asking the questions: What lessons can we learn from this catastrophe? And how can you prepare for such an incident in your own locale?
Let's begin.
Table of Contents
01

The Jacksonville Disaster: An In-Depth Look

02

Emergency Clean-Up and Ongoing Investigations

03

A Rising Tide of Chemical Incidents

04

The Toll of Chemical Accidents

05

The Need for Stronger Regulation

06

Your Chemical Spill Preparedness Plan

07

Final Thoughts
The Jacksonville Disaster: An In-Depth Look
Crews are working a hazardous material incident to a rail car in the 7100 block of Philips Hwy involving hydrochloric acid. Mandatory evacuations are taking place. pic.twitter.com/JOw2cXSwFM

— THEJFRD (@THEJFRD) September 17, 2023
The ordeal began at approximately 1 AM, when a railroad car transporting hydrochloric acid crashed, releasing 30,000 gallons of the clear, poisonous liquid into the environment.
No sooner had the spill occurred, however, than JFRD Captain Eric Prosswimmer and his team were on the scene. There, they found themselves greeted by a rather disconcerting sight: a looming cloud billowing from the compromised rail car.
With 200 to 300 gallons of acid pooling on the ground, the potential hazard was immediately evident. Thus, when the chemical-laden cloud meandered first east and then west, the decision was swift: evacuation. To this end, Prosswimmer worked with the Jacksonville Sheriff's Office to activate the alert system and close off Philips Highway.
Ultimately, the evacuation order was short-lived, with residents being welcomed back Monday morning, and sections of the highway being reopened.
Nevertheless, officials had good reason to take precautions.
Hydrochloric acid, after all, is highly caustic. As such, when it comes into contact with human skin or is ingested, the exposure can lead to severe complications, such as burns, respiratory distress, and digestive system ulcerations.
Consequently, the lurking cloud was not just a spectacle–it was a potential health hazard.
Emergency Clean-Up and Ongoing Investigations
Jacksonville evacuation area. (Image courtesy of WJXT via News4Jax)
In a marriage of emergency response and technology, drones buzzed overhead Jacksonville Sunday morning, providing a bird's-eye view of the spill. These eyes in the sky pinpointed the leak, guiding ground crews to act with precision. Thus, the leak was promptly addressed, stemmed with the aid of specialized equipment.
But while the immediate danger was defused, the aforementioned cloud still hung in the air. Officials, however, were quick to reassure the public, deeming the residual cloud non-hazardous.
Responsibility for the clean-up, meanwhile, was entrusted to a specialized hazardous material company, brought in by the Florida East Coast Railway. And while their expertise will no doubt address the aftermath, one question still looms large: What caused the leak?
For now, this remains a mystery.
A Rising Tide of Chemical Incidents
The infamous train derailment in East Palestine, Ohio. (Image courtesy of Gene J. Puskar/Associated Press)
In the wake of the toxic train derailment in East Palestine, Ohio governor Mike DeWine remarked, "No other community should have to go through this."
Tragically, DeWine's wish for the country did not come true, with reports from various sources–including a Guardian analysis of Environmental Protection Agency (EPA) data–indicating that chemical accidents are occurring across the country with startling regularity: almost every two days, on average.
Indeed, in just the first seven weeks of 2023, the Coalition to Prevent Chemical Disasters documented over thirty such events, equating to nearly one accident every thirty-six hours. This, notably, represents a considerable escalation from the 188 recorded over the course of last year–and 177 in 2021.
The Toll of Chemical Accidents
#ViaCerroIC UPDATE- 7 civilians and 2 firefighters have been transport to area hospitals with unk extent of injuries. The CAL FIRE /RCOFD Hazardous Materials Team is making entry into the bldg.

— CAL FIRE/Riverside County Fire Department (@CALFIRERRU) September 23, 2022
In addition to the Jacksonville incident, several other notable chemical disasters have occurred recently:
As previously mentioned, a train derailment in East Palestine, Ohio released toxic vinyl chloride in February of this year, affecting a community of 4,700 people and leading to significant health and environmental repercussions.

In late September of 2022, a hazmat spill at a California recycling facility led to the hospitalization of nine individuals and the evacuation of 300 others.

In October of the same year, Louisiana saw an explosion at a petrochemical plant, which necessitated a shelter-in-place order for the nearby residents.
The Need for Stronger Regulation
(Image courtesy of AP)
Despite the rising tide of chemical incidents, the push for stronger regulations has proved to be quite a battle.
One pertinent example of this emerged in August, when the EPA proposed changes to the Risk Management Program (RMP) regulations–aiming to enhance emergency preparedness, increase public access to information, and introduce new accident prevention requirements. Industry bodies, however, have resisted these changes, arguing that they are unnecessary and won't improve safety.
Meanwhile, worker and community advocates argue that these measures don't go far enough.
Your Chemical Spill Preparedness Plan
In the midst of this bureaucratic deadlock, it is prudent to make preparations under your own steam. That way, you and your family will remain safe from the threat of chemical spills, regardless of government interventions into the matter.
The first thing you'll need is the CM-6M–one of MIRA Safety's most popular products, and for good reason. Professional grade with a wide field of view, this gas mask sets the standard for CBRN protection. That's why we recommend acquiring a CM-6M for each member of the family.
The CM-6M
Note that for children, an MD-1 gas mask will be necessary. With features comparable to the CM-6M, this protective mask affords comprehensive CBRN protection for family members aged two to twelve.
The MD-1
And of course, each gas mask requires a suitable filter. For this, we recommend MIRA Safety's trusty NBC-77 SOF, which boasts a truly impressive twenty-year shelf life. Providing protection against all known CBRN agents, the NBC-77 is among the best investments in one's emergency preparedness that one can make.
For details of how the filter fares against specific chemical threats, please read the following letter, which was published in the aftermath of the East Palestine train derailment.
The NBC-77 SOF
Lastly, in the event of a chemical spill, we strongly recommend sealing off your home with ChemTape. Remember, too, to tightly shut windows and doors, and switch off ventilation systems to prevent the entry of airborne contaminants.
ChemTape
Alongside this, keep a close watch on your local news, monitor emergency alerts sent to your phone, and operate in accordance with your family's emergency shelter-in-place plan. (You should absolutely have one of these, by the way.)
Final Thoughts
A distinctly colorful chemical spill. (Image courtesy of CMM Online)
Each day and a half, a new American community is subject to the unintentional release of dangerous chemicals.
And while some of these disasters make headlines, most fly under the radar, leaving affected locales to grapple with the aftermath in silence.
So whether you reside in a city of national renown like Jacksonville, or dwell in the hidden nooks of a remote homestead, it is wise to make adequate preparations for a chemical spill.
That way, even the most ominous chemical cloud will have a silver lining: your emergency preparedness.